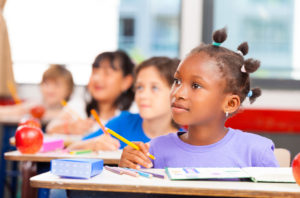 Military-connected students have unique challenges that they must overcome in order to be successful in the classroom. According to Seasons of My Military Student; an organization that provides military parents, students, and teachers with resources on educating military students, one of the biggest problems military students and teachers face is the overlap/gap students have when they enter a new school.
Teachers say it's not unusual for students to have an overlap in one subject and gap in another because every school has different curriculums. This means the student may not be in the right class for his or her learning level and experience. This can create significant issues for the student and cause them to not succeed academically or even socially.
When a student learns the same material he or she already learned at a previous school, he or she may struggle to pay attention or do the work necessary to get a good grade in the class. This is an overlap issue. On the other hand, if there is a gap from one school to another regarding coursework, a student may not be ready to complete the same assignments and materials as his or her classmates.
In order for students to be successful, experts recommend that education administrators take special care to assess an incoming student's experience and knowledge and align it with the new school's curriculum. Parents, teachers, and students can work together to ensure any gaps and overlaps are addressed and accounted for. They can then develop a plan to get the student at the same level as his or her classmates.
As a four-star general and military parent, General William Ward works very closely with organizations that assist military students, parents, and teachers on child education issues. For the past fourteen (14) years, his wife has served on the Board of Directors of the Military Child Education Coalition and is very passionate about helping children in need. One of her special projects was the establishment of the Student to Student (S2S) program where incoming students are sponsored by current students at their new school to help ease the transition.  All transitioning students, military and otherwise, have taken advantage of this initiative just as with other initiatives by local schools.  General William Ward believes that education is paramount to success and helps children transition to adulthood where they can be leaders in their local communities. Helping students overcome gaps and overlaps goes a long way in ensuring their success in the classroom.